200 Hours Yoga Teachers Training Course
14 January 2019, Monday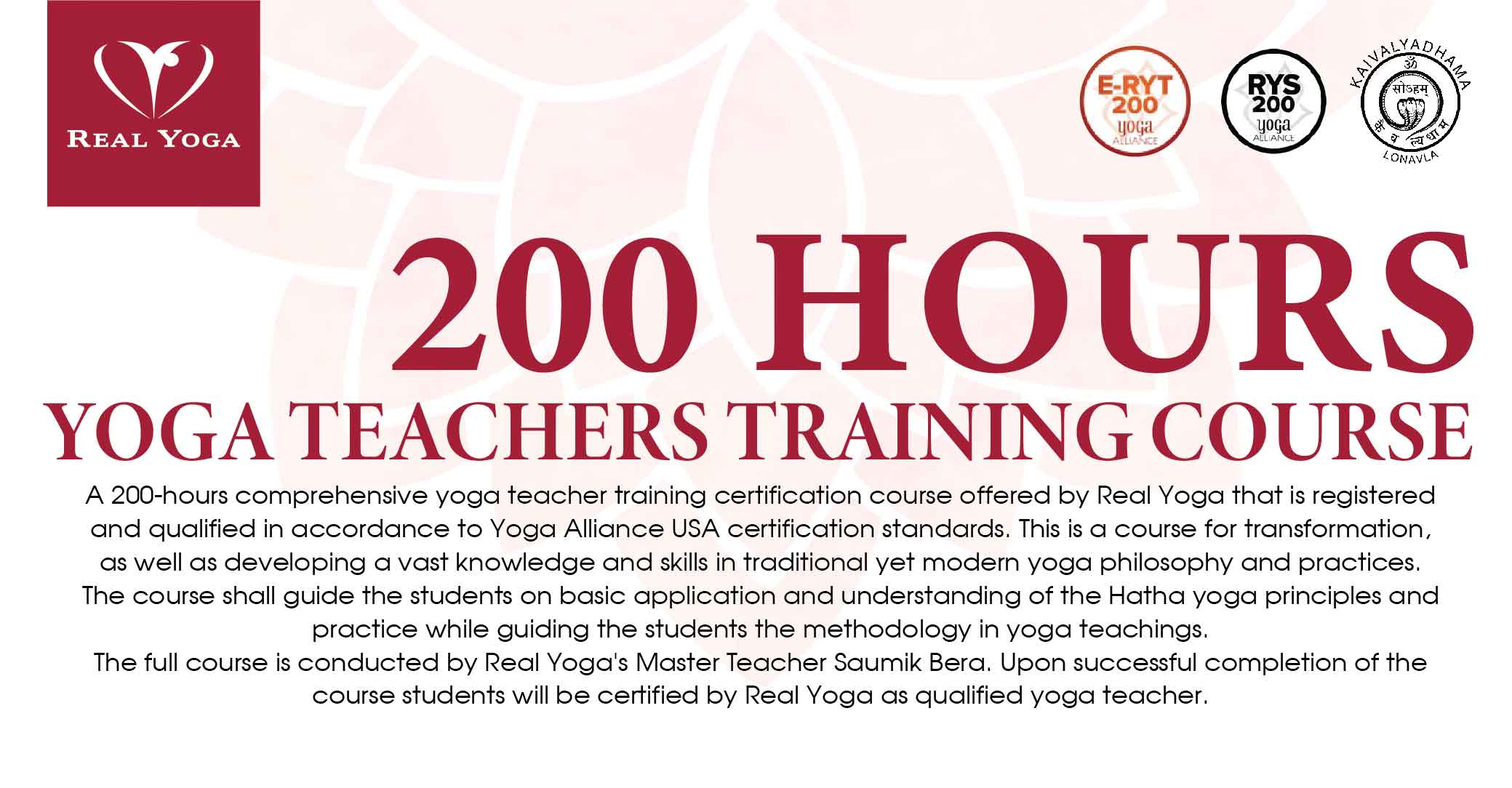 What to expect
Uncover your potentiality
Increase your awareness of your body and mind
Refresh and rejuvenate your body and mind
Increase your physical strength and flexibility, mental well-beings
Be inspire to become a better yoga teacher
Help you to develop your teaching skills and the confidence in teaching
Course syllabus 
Part 1 | 150 hours
Philosophy – an introduction to the origins and history of Yoga including different types of yoga, an overview and understanding of the 8 limbs of yoga (from the Patanjali yoga sutras).
Sanskrit learning – learn the sanskrit names of asanas.
Meditation practice & teachings – a mindfulness practice to train our mind to stay focus, relax and positive, and learn the techniques in guiding students for a proper, effective and  therapeutic meditation process.
Pranayama practice & teachings – understand the importance of pranayama (breathing) in yoga practice, and how we can incorporate proper breathing techniques in the class.
Asana practice & teachings – learn and practice the basic asanas, how to move into these poses. Students will also learn how to observe the body during poses holding particularly on what to look for and observe the actions in the poses.
Kriya and Bandha practice & teachings – an introduction to various kriyas and bandha techniques, students will also get to practice these basic techniques during the course.
Adjustment & Alignment – learning and hands-on training on adjusting the students and aligning the body positioning of different body types in various yoga asanas covered in this course.
Human Anatomy & Physiology, understanding the human body anatomy, how different body types and structures of the body can affect in the yoga practice, students will be given a vast knowledge of the human anatomy for each and every asana covered in this course.
Teaching Methodology & Sequencing – there are many ways to sequence a yoga class, but how we can put a sequence that bring a positive vibration and connection between teacher and students, learn the creative methods in sequencing as well as to make your class different and wild.
Practical practice – during the course, students will start to learn to teach in small groups or in one whole class.
Assignments – students will be given in-class assignments, either individual or in groups, and a presentation of the assignment given.
Examination – practical and theory examinations will be held on the second last and last day of the course.
Part 2 | 50 hours
Field practice, students will be given unto 50 hours of in-class teachings at Real Yoga studios (option of conducting or teaching own group classes is acceptable), within a period of 6 months after completing Part 1 of the course.
Report writing, students are required to submit a final teaching report within the 3 months of completing Part 2 of the course.
Faculty
Master Saumik
Who is this course for?
This course is appropriate for serious students who would like to start teaching yoga or seeking a yoga career, as well as students who would like to deepen their own knowledge and personal practice. This course is also suitable for existing yoga teachers who want to upgrade their knowledge and teaching skills. You will gain a fullest and deepest understanding of the physical and spiritual side of y yoga that combines together to create an exceptional yoga teacher.
Course Venue and Dates
Bali, Indonesia |  24th April 2019 to 9th May 2019
The Lokha Ubud
Br. Bangkiangsidem, Desa Keliki
Tegallalang, Kelusa, Gianyar, Kelusa
Payangan, Kabupaten Gianyar
Bali 80571, Indonesia
Singapore | 2nd August 2019 to 8th September 2019
Real Yoga @ Centrepoint
176 Orchard Road #06-06/07
The Centrepoint
Singapore 238843
Course Schedule
Bali, Indonesia
24th April 2019 – 6pm to 8pm, 2 hours
25th April 2019 to 8th May 2019 – 8am to 8pm, 10 hours per day
9th May 2019 – 9am to 6pm, 8 hours
Singapore
Fridays, 6pm to 10pm, 4 hours per day
Saturdays & Sundays, 10.5 hours per day
Pre-requisite
We recommend a regular practice of 6 months is required
Course Fees
Bali, Indonesia
S$4,500
Inclusive of course fee and 16-nights accommodation only (based on twin-sharing basis). Students who wish to stay on single occupancy, an additional top-up $800 is payable.
Singapore
S$3,210
Inclusive of 7% GST
A 20% discount on course fee is given for repeat students or those who are taking the full course again, at S$3,900 and S$2,568 for Bali and Singapore respectively.
Payment Mode
Cash or Nets – to be made at our reception counters
Cheque – payable to Real Yoga Pte Ltd
Direct bank transfer – please write to us for our bank details
To Pay Online
Registration
Download the registration form here, or email us at yttc@realyoga.com.sg